Home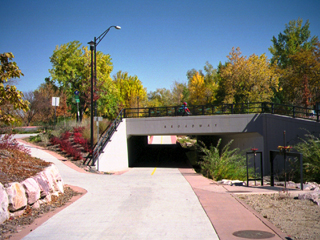 We help create a wide variety of transportation
solutions. How can we help you?
News & Events

» Community Builders (January 2016)
Charlier Associates has been working with the Sonoran Institute on formation of a training and technical assistance program called New Mobility West (NMW). NMW is a featured program of a new non-profit organization – Community Builders – that provides information, research, insight and analysis for developers, realtors, planners, public officials and engaged citizens who are actively building stronger economies in the towns and cities of the American West. Charlier Associates' involvement includes serving on the faculty for the Community Builders Leadership Institute (a training program) and providing direct technical assistance to local public sector partners. more . . .

» Jackson, WY Adopts Community Streets Plan (December 2015)
On December 7, 2015, the Town Council of Jackson, WY, adopted a new Community Streets Plan. Staff, including members from Pathways, Public Works, START Bus, Planning, and Parks and Recreation departments, worked closely with Charlier Associates over a nine-month period, followed by public comment and development of additional content, to create the 2015 Community Streets Plan. more . . .

» APA-CO 2015 Conference, Steamboat Springs (October 2015)
The American Planning Association, Colorado Division (APA-CO) held its annual conference in Steamboat Springs September 30 – October 2, 2015. Planners and other professionals in the planning industry from across the state gathered to share ideas, knowledge and information on noteworthy projects and cutting-edge practices. This year's conference saw record breaking attendance, and both Jim Charlier and Patrick Picard of Charlier Associates were contributors. Jim moderated a session titled "Emerging Trends in Transportation Planning" and Patrick Picard was one of the three speakers. more . . .

» US State Department – Indonesia Technical Assistance (October 2015)
In September, 2015 Jim Charlier spent two weeks working with local governments and universities in Indonesia on urban transportation challenges and opportunities. This work was funded by the US State Department and coordinated by the US Embassy in Jakarta and the Consulate in Sumatra. more . . .

» Jackson and Teton County, WY Adopt Integrated Transportation Plan (September 2015)
The Jackson/Teton Integrated Transportation Plan was adopted by the joint Town Council and County Commission by a vote of 9-0 on September 14, 2015. The Integrated Transportation Plan, prepared by Charlier Associates, is unique in its approach to integrating several complex, yet overlapping systems, including land use, multiple travel modes, and numerous jurisdictions (Town, County, State DOT, Federal Lands). more . . .

» Aspen releases VMT and GHG Emissions Study (August 2015)
The City of Aspen's Canary Initiative, a city program that promotes environmental stewardship and reductions in greenhouse-gas emissions, released the 2014 Aspen Community-wide Greenhouse Gas (GHG) Inventory Report. The report utilizes data from the City's first comprehensive vehicle-miles-traveled (VMT) study conducted by Charlier Associates in the spring of 2015. more . . .

» TIGER Notice of Funding (April 2015)
US DOT has announced the availability of $500 million for the seventh round of the Transportation Investment Generating Economic Recovery (TIGER) competitive grant program. The agency release says the 2015 round includes some adjustments from past practice. The rural "set-aside" is now 20% and DOT is clarifying the availability of funds for pre-construction phases (concept engineering, final design, etc.). Pre-applications for TIGER VII grants are due May 4 and final applications are due June 5. more . . .

News Archive...