Home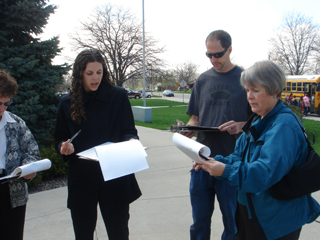 We help create a wide variety of transportation
solutions. How can we help you?
News & Events

» Kaua'i Adopts Transportation Plan (February 2013)
The Kaua'i Multimodal Land Transportation Plan (MLTP) was adopted by Kaua'i County Council by a vote of 7 to 0 on January 30, 2013. The long range plan, prepared by Charlier Associates, Inc., is Kaua'i's first multimodal transportation plan and includes sections on public transit, bicycle facilities, pedestrian facilities, county roads and streets, agriculture transportation, and land use. A major component of the plan includes the first long-range plan for The Kaua'i Bus, the island's popular and rapidly growing public transit system. more...


» Grand Teton National Park Multi-Use Path (August 2012)
The final leg of a 20-mile pathway connecting the Town of Jackson to Jenny Lake in Grand Teton National Park was completed in June. The pathway is an integral recommendation of the GTNP Transportation Plan Environmental Impact Statement, which was approved in 2006. Charlier Associates, Inc. provided transportation planning, alternatives development and environmental consequence expertise during the 5 years of research, collaboration, development and analysis that went into writing the comprehensive EIS. more.


» Active Transportation Indicators (July 2012)
Charlier Associates, Inc., in collaboration with Dr. Ann Forsyth (of Harvard University) and Dr. Kevin Krizek (of the University of Colorado), recently completed a research project sponsored by Kaiser Permanente to identify model examples of how to measure active transport, in particular those currently being used in Colorado. The primary research component of this project was an Active Transportation Indicators Workshop that was held in Englewood, CO on March 15, 2012 and was managed by CAI. more...

» TIGER III Grant Award (December 2011)
Smith River Rancheria, a federally-recognized Native American Tribe located along the Pacific Coast in northwestern California and southwestern Oregon, received a $2.5 million TIGER III grant for its US 101 Multimodal Smith River Safety Corridor project. Charlier Associates, Inc. collaborated with the Tribe to develop, prepare and submit the TIGER grant application as a consultant to Smart Growth America. The TIGER grant award will fund much-needed safety improvements for bicyclists, pedestrians, and motorists within the Tribe's "gateway areas" on this nationally-significant highway, as well as signage and other elements to enhance the area's unique community identity. more.

» EPA Smart Growth Award (November 2011)
Connecting El Paso, a TOD and redevelopment plan for several BRT stations and corridors, and a former smelter site, has won USEPA's 2011 National Award for Smart Growth Achievement for Programs, Policies, and Regulations. Charlier Associates, Inc. was the transportation subconsultant for the project, led by Dover, Kohl & Partners. Connecting El Paso used an innovative charrette process to develop SmartCode-based TOD plans for three BRT stations and corridors as part of the City's planned Rapid Transit System, a four-line citywide BRT system. more.


» TIGER III Technical Assistance (October 2011)
Charlier Associates, Inc. is assiting six communities across the country in applying for USDOT TIGER III grants. Five are rural communities that CAI is assisting a a consultant to Smart Growth America. We are assisting the sixth community, El Paso, Texas, as part of our ongoing work on a consulting team being led by Dover, Kohl & Partners to update the City's Comprehensive Plan and to prepare TOD and redevelopment plans. more.


» NPSG 2011 - Charlotte, NC (February 2011)
The New Partners for Smart Growth annual conference was held in Charlotte, North Carolina, February 2 through 5, 2011. Attendance was robust at 1,400 and included planners, engineers, architects, landscape architects, health professionals, local elected officials and citizens from across the U.S. (and other nations). Jim Charlier presented twice at the conference. more...

» National Praise for El Paso Project (February 2011)
Charlier Associates, Inc. is a key part of a team led by Dover, Kohl & Partners (DKP) that recently completed Connecting El Paso for the west Texas city. The plan, unanimously adopted by the El Paso City Council on January 18th, 2011, is attracting national attention as a leading-edge smart growth TOD blueprint. more...

More News...